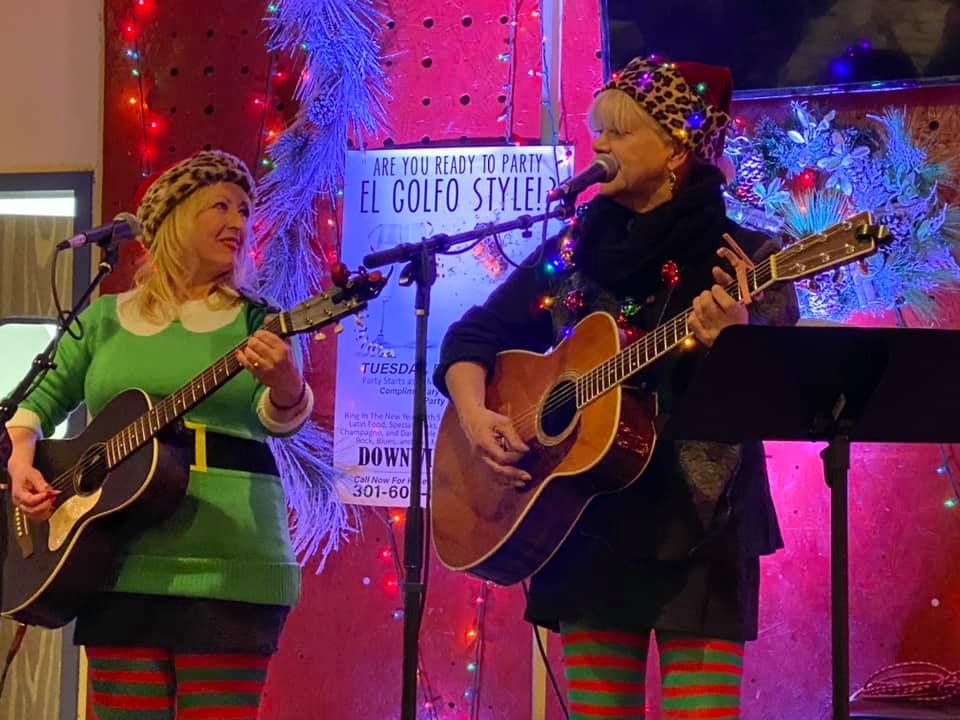 diana quinn and lisa ann wright
The Snarky Sisterz are: Diana Quinn, veteran DC musician (Honky Tonk Confidential, The Fabulettes, and Tru Fax & the Insaniacs) and Lisa Ann Wright (The Fabulettes, and also a professional actor).
Diana is a vocalist, a classically trained but rockin' guitar player, multi-band leader, songwriter, and winner of an impressive number of Washington Area Music Awards (WAMMIES.) Diana's country band Honky Tonk Confidential  released several award-winning albums including "Road Kill Stew and Other News" featuring newsman/songwriter Bob Schieffer, and the band had an unforgettable and fabulous experience playing the Grand Ole Opry. 
Lisa also won a WAMMIE for her debut solo album and has also won several songwriting awards:  Lisa's solo album "Here I Am"  is a current finalist for the Washington Area Music Awards for Best Country/Americana and Best Folk Albums.  Lisa's single "My Daily Bread" was a finalist in the Peace Song Awards and was awarded a Silver Medal in the Global Music Awards. Also, this song was a finalist/added to RAWA's Songs of Social Change Compilation CD , and it is was a nominee for the 2019 Hollywood Songwriting Contest, and a Nominee of the 2019 American Songwriting Awards. Three of Lisa's songs have recently placed Honorable Mention awards for the Mid-Atlantic Song Contest.
In the Snarky Sisterz, Diana mostly plays an M-38. Lisa plays an Art & Lutherie Roadhouse Parlor guitar, mostly because her hands are so tiny. (Diana wrote that)

Diana and Lisa have a 2018 EP available on multiple platforms and are now booking gigs in Maryland, DC, Virginia and beyond! AND there are new Snarky songs in the studio and will be released soon!
We are the Snarky Sisterz!